For many years I haven't completed this section, now I enter again and it is not a cheerful news. It is a pity.
LEGENDA OF YANNICK QUEEN´S HERMELÍN AKA JENÍČEK (father Leicester v. Hollandheim, mother Night Queen Queen´s Hermelín)
Jannick

was a world-famous champion, he gained a huge amount of titles during his fruitful life, he visited many great kennels as a respectable groom (from the most famous names I mention kennel van Hollandheim, Longbody¨s, Di Casa gave Pino, Ozzy Bozzy and many others). His name is bred in many pedigrees of puppies throughout Europe and distant continents, such as South Africa, USA, etc.


These breeders highly appreciated both its beauty and its great character and excellent pedigree value.
Unfortunately, Yannick has left us and left for a dog paradise, but his name still has a great sound in the world.
We were now visiting Antonio Pino in Italy. Antonio is very proud to have a breeding female after Yannick, who has already given him a lot of beautiful puppies. Two puppies sold he years ago to USA and

with pride
, joy and grin, he described what was happening there. Jannickomanie broke out in America and everyone is looking for a puppy who has his name in his family tree.
In addition, his latest puppies, which he has made, continue to spread his fame, the Limited Edition in Hollandheim in Buffobass kennel, and many brides, so that Yannick's name will be filled with pedigrees of many puppies in Russia, Carla Ozzy Boz will collect the title for the title, in the Czech Republic the siblings Pocahontas and Pierre Queen¨s Hermelín are scoring, they collect the club winners and Pocahontas is a multichampion 8 x CACIB in 2 years. Pierre is also a multichampion and 3 x CACIB. Inquiries about puppies from all over the world go to Queen¨s Hermelín kennel and I am commenting on their request "we require a beautiful head, strong bones, a lot of skin and short legs. We want a puppy like Yannick.
Yannick is just a legend, and no one's gonna bother him.
No dog from Czech breeding was used in breeding abroad and not at such great breeding stations, which are famous all over the world. I thank Sona Vik for the love and care Yannick has given. Without her dedication, he would never have become a legend.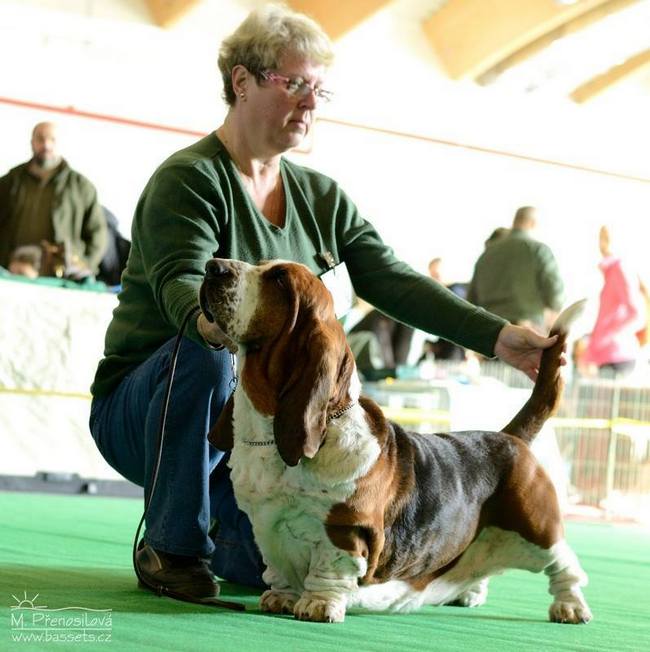 Yannick
Breeding bassets in the Czech Republic, or I do not know whether to laugh or to cry
I deal with basset breeding for 30 years. All the time, ever since I started, we had really beautiful Bassets and our breeders could boast at the important foreign exhibitions and the really good breeders sold their puppies all over the world.
But what I can see for the last 3 to 5 years is that my reason keeps standing. Winning dogs are with gross, sometimes unfortunately with a disqualifying defect. This is unfortunately due to the fact that our breed do not judge specialist for this breed. Only all-rounds judge, and the vast majority of them, unfortunately, know nothing about Bassets. And the future will only be in that spirit. And another unfortunately is that with these gross defects the breeders are continue and continue to breed. And ignoring the negative or gross defects and putting them into the breed, it's an inconvenience.
That's why it looks like breeding in our country as it looks. Just terribly.
And I'm not even talking about the scams in the breed, it's going to go back to everyone, like a boomerang and with interest.
On July 15.2017 I was at the national exhibition in Mlada Boleslav, I exhibited my Nobbi female in the young class in competition of 4 females.
Nobbi won the class and the judge gave her a very good 1 with the female being too low. The national winner gave a female that is obviously overgrown by at least 3 cm, maybe even more. Such overgrown dogs are now seeing more and more in the exhibitions and what beautiful titles they have.
I have to say, unfortunately, that I have not seen so many overgrown bassets in the last 30 years together, like the last three years. The disaster for the breed is that these dogs have beginner breeders who have raised 1 to 3 litters and who are mainly characterized by being convinced that they know everything, they understand everything, they have already read about the breeding and can and should advise others.
I have the impression, however, that they have not read the standard of breed at all, and they should have started reading this if they wanted to have quality bassets. The standard height of the breed is 33-38 cm. But for successful breeding must have one breeding feeling and good luck.
Feel for the breeding of no one reads either from standard nor pedigrees or anywhere else. This property has very few breeders.
The worst thing about this is that these beginners already have overgrown offspring from their overgrown females, on which they will breed again.
And this fact is related to my question, should I laugh or cry?
Because if they will breed on these overgrown females (with overgrown dogs probably will not cover anyone???), they will in five years probably want to change the standard at the height of at least 45 cm to reach that height.
Thank God, the guarantor of the standard is England.
P.S. I see that I used a lot of "unfortunately", unfortunately I feel and see it. Oh no.



On these sites firstly I would like to attend just very briefly to my sad experience from the dog breeding and pointing and those stories will be followed just by joyful happenings from my life, that is connected generally with dogs not just basset race.

I start with the sad experience, that I hope will be a lesson for everyone who starts with dog breeding and pointing and I think that this my experience could have surely been confirmed by any wise and just a little bit successful breeder of any dog race.

So this is the sad experience

Every, though a small success of your dog on the exhibition leads to a great envyousness from the side of other competitors in the group of your dog race. If the success is just sporadic, the slander will not reach your ears and breaks down just in the tiny circle of the envious.

But when the success rises, it starts to hinder and a lot. I had to undergo this bitter experiece of "annoying" to other competitors. After one great success abroad I lost my good friends

(I though they were friends) and contrariwise I found my irreconcilable enemies.

But the human has ability to cope with such problems and I started to follow one wise proverb: "What does not kill you, it strengthen you" and "Your good mood make surely your enemies angry".

A good advise for everyone and be behind that: The more success, the more slanders. And when you obtain rude anonymous e-mails, you are the best.

And when the slanders decrease, think about your breeding, where the mistake is. Most probably nice dogs in your breed are missing and it is necessary to do something with it.

Therefore do not worry about the slanders, but on the contrary do enjoy it, because it actually means that your dogs are nice and do take it as a meaningful honour of your breeding success, that is not accepted by your envious colleagues, they can not even sleep and they are not able to express it differently.

In 2007 I had a high-quality Leicester v.Hollandheim borrowed in my breeding station. Among others I mated female also for a person who features with above mentioned qualities. After a short time this person slandered Leicester in an absolutely arrant way despite having nice puppies from this dog.

A friend of mine who is an experienced breeder and a long-standing dog-fancier always says smilingly:


'Every good turn has to be penalized worthily.'

So this so called 'breeder' demeaned exactly in accordance with this word. When I ventured to protest against that and to advocate both the dog and my breed I impinged on defy and I learned that it was me who was slandering. This "breeder" choses a policy: 'offensive is the best defence'. It serves mi right, I should not let such creatures enter my house.

Now first a good advise:
Never emulate with an idiot! He will shut you down onto his level where he will worst you using his experience!!!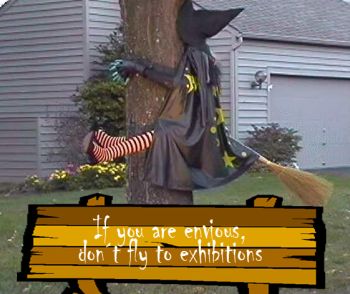 And now just the pleasant and hopefully cheerful things:

The most picturesque calls on the theme a puppy selling:

I was selling pupies of Tibetan spaniel:

Small voice on the phone, due to my guess a ten years old boy:

Hello missis, do you have a puppy of Tibetan spaniel?

Me: yes I have

Voice: Missis, I need it for translations from Tibetan to Czech

Me: silence... and rasping... after a while... hey give me your mother, who is chuckling next to you.

Voice: My mother is not here but I really need the puppy for translations

Me: Are you mad ? Give me your mother or father...

Voice snivelling: Missis, you do not understand me, I really need it for the translations...

Me: I hang the phone up.

Since that time I have not discovered if the child was mad or somebody was playing a joke on me.
Translator Ansicka

It also happened to me twice that from a normal business call concerning a basset puppy sale has turned out an erotic call – some pervert man. At the first time I was so aghast that it took me more than a minute till I realized what his hyperventilation and braying actually had ment.

There are also funny calls like:

Voice: Missis, how much does it cost?

Me: What do you mean?

Voice: I mean the basset puppy. Do you have an advetisement, don´t you?

Me: and are you interested in anything else than just the price?

Voice: No, how much does it cost then?

Me: Good bye.

And one better example:

Voice: I would like to buy a basset puppy and I prefer without a pedigree.

Me: I have only with pedigrees. If you want without go in the dog pound and do a good deed.

Voice: I was there but I do not like anything and the ordinary lurcher costed 1000,- CZK ($50) they said that it was for vaccination.

Me: My puppies are surely also vaccinated and they have a pedigree.

Voice: And what is the price?

Me: I say the price.

Voice: And wouldn´t be possible to get your puppy without the pedigree?

Me: no, it would not, I say you for he third time that they are with a pedigree.

Voice: So you could keep the pedigree and give me just the puppy or not?

Me, just amusedly: I surely can keep the document, but it does not change the price. You think that I value the certificate as a half of the puppy price, don´t you? The certificate means that my breeding is high-guality and it means each of the puppies is so valuable.

Voice: So I think that you will not sell me any puppy, would´t you?

Me: Yes, in no case.

Curiosities from the exhibitions

Me and a group of people were sitting in a circle at one club exhhibition and just talking. One breeder (woman) sat next to us. After a while came her husband and brought her a grilled chicken. She wanted to start eating when somebody came to her and took her out for a while. The chicken was left on a plate on ground. A brood bitch, that belonge to my friend, called "Non-feed dustbin"( it was still snooping around dustbins), did not wait and grabbed the chicken that disappeared in it´s maw. My friend shouted desperately and pulled the chicken out of dog´s maw. He wiped slavers, put it back on the plate and said "I have to get on with the breeder well". We were just laughing and waiting what would come. The breeder came, took the chicken, smelled and with words: " It´s still quite hot" started eating. She could not understand why we wished "Enjoy your meal" with a strange expression in our faces and why nobody wanted to taste it.

Basset slobbers. By a subtle head toss it can place a slobber on the top of your pretty hairstyle. Due to it´s opinion it is a perfect fine-tune of your image. A Bloodhound is able to spit to the ceiling.


I was with my friend at an exhibition, she went to show her basset and I was waiting with her bloodhound. When she was in the exhibition group, everybody including the member of a judge could see a huge spittle swinging as a thick queue to the half of her back. The judge was so spellbound that they gave her a lot of titles.

My all bassets slobber a lot. In morning before an exhibition before I load the dogs to my car I am slobbered and completely dirty. I can not fully understand that some of basset exhibitors are clean for the entire exhibition. After the exhibition I usually look like a homeless that spent a week in a ditch. As I started to use dog cages, nothing has changed I am still slobbered, with many dog hair on my clothes and completely smeared. When I take the dogs out of the cage they jump, slobber at me cheerfully and do everything to make me be their equal partner. They would not possibly accept any perfumed and made up lady beside them. And so do I look like at home. After I put a clean trousers on and come on my yard, I become immediatelly dirty. The possible reason is in that, that I let my dogs jump at me, kiss me almost knocking out my teeth and I do not mind their loving manners. My dog called Primo runs around me and when he has an occasion, he bites me to my backside or to my thigh, so after that I look like I have a passionate lover. Yes I do have. So I can not complaint that I look like according to it. And I surely do not complaint.

A few yaers ago I exhibited a Tibetan spaniel. It is 9th group, it meanst that they are on Sunday, bassets are on Saturday. There was an exception in this competition, it took place in Bratislava on the horse racecourse at that time it was just for one day. The ladies, who breed Tibetan spaniels take the competition as a prestigious happening and wear blouses with jabots or ruffles, mini-skirts or almost a wedding dress. I wore normal jeans and among them I looked strange. At first they looked at me weirdly and after that I started to hinder to them. Although I wore just jeans, my dog, called Ansička was winning, because the judge judged the dog not it´s owner and what he wears. I was clean and tidy with Ansička, because the Tibetans do not slobber. But this competition in Bratislava was an exception. In the morning
I exhibited two bassets and because the races were perfoming mostly due to the alphabetical order so our Tibetan´s turn shoul have been around noon. So I was with my bassets and I sometimes sent my husband to the group of Tibetans to see how did it look like. The competitors with Tibetans did not know my husband. At noon I went to the group of ladies with Tibetans. When they recognized me as I was dirty from my bassets, they were surprised and one of the ladies just whispered: : "I though that you were not here". My dog Ansička was awarded by CACIB and BOB and that was it. The judge was not interested in the pretty clothes of other competitors and also they did not mentioned about the slobbers I had on my clothes from my bassets. They might not noticed it.

Basset is an extreme glutton

When I exhibited my dog Champ, my hands were almost dislocated as I was overstraining with my dog, that has still hollow legs. The Champ´s most favourite entertainment was snack pilfering from bags that belonged to me and also to my colleagues. I did not mind him to steal and eat the snack to a child from it´s hands. I was not possible to reclaim it, he swallowed it immediately not allowing me to prevent it.

I was successful in it just once. Champ loves plush animals and when he saw something like this in children´s hands it was not possible to prevent him to steal it. It was very unpleasant, the child was able to mourn for the snack, but the plush animal is too much and it´s parrents did not like the plush which I pulled out of the dog´s maw.
my plush - my love

My first prize dog called Cedrik from Černošice (Czech Republic) had as a young puppy very bad experience from his first exhibition. The judge wanted to see his teeth but the problem was that I had not taugt it him and he started make problems with showing teeth. But the judge wanted to see also grinders so we had to fight with the dog for five minutes till the judge could see it. So this was the problem, when somebody wanted to see his teeth it was not possible and it looked like that we could not exhibit because of this in the future. But as it was a nice dog I decided to solve it by an original way. We had bricklayers in my house that time they reconstructed something in our flat. They were there almost a week so each man, who was not afraid of dogs was comming regularly under my sight to see Cedrik´s teeth. After four days of teeth watching was Cedrik able to show his teeth without any fear just when he saw dirty hands from mortar.

Do we order to wind and rain???


In the Basset telegraf appeared my article in 2004 concerning exhibition promotions. I whipped me up to write this article after I had read several aggressive attacks written by unsatisfied exhibitors, who were criticizing the Basset club commission that the exhibitions were taking place outside on the grass and there is no space to hide in case of raining. I wanted to put those dog owners who rarely exhibit in the picture and they do not know how does it work at thees competitions.


I have been exhibiting for 12 years and I can say in Czech Republic and also abroad very often. I experienced on the exhibitions many miscellaneous things good but also bad but nothing could discourage me. Although I am a cold sensitive person I like exhibitions that are placed outside on the grass more than in a perfect hall with unfortunatelly slippery shiny floor tiles or on the linoleum where the dog legs skid and it is not possible to put the dog into a right posture and during the running in a circle the dog and his owner risk a slide. The circle I mentioned is sized 3x3 meters so it is too small to talk about a good exhibition, so I prefer circles outside, surely with a good surface ( I do not mean a ploughed land, but it also happen quite often) and I am disposed to tolerate the rain or other moods of weather.

The basset is a hunting dog and it should stand quite a lot and his owner has to cope with this.

As it seems that a lot of people find unsuitable to organize our exhibitions outside I exemplify several distinguished exhibitions where the weather was not good and in spite of this they are taking the same place at the same date and many exhibitors are comming there.

I start with the most outstanding exhibitions where man could expect a higher standard, according to the signification of the exhibition, according to the number of registered competiting dog (often more than 10 000) and also according to the entering fee for one registered dog (70-80 Euro for a dog). In reality the reverse can be the truth.

The world exhibition in Budapest – from this exhibition I brought burned shoulders, hands and legs. It was not possible to hide from shining sun and everybody tried to make a shade from his body to protect dogs. We also covered dogs with wet towels to save them alive.

European exhibition in Tulln – it was raining and the cold wind was blowing. The basset exhibition could be possibly described by :"I already jump over the pubbles again."


World exhibition in Dortmund – the basset circle took place in the dark, unattractive underground garages, but during the day it appeared as a great position, because of hot weather, in the higher nice halls the temperature was unbearable. During the short walk in the upper halls I was sweated through so I did not want to go to run with the dog in the circle.

Nowadays I can just cast my mind back on the international exhibition in Lodž in Poland, where we were shocked after we saw the condition of muddy clinker football field, where the circles for the dogs were staked out and even for hairy races.

Till now I must laugh when I remember the stuned expression in the face of white feathery bichons, that I saw when I went to find out where the circle for Tibetan spaniel that I exhibited there, was. After this finding broke an upstanding out and the Bichons and related breeds moved on grass. Bassets and other tough fellows remained on the clinker surface, because there was no any other space. The circle for bassets was from 2/3 covered by black muddy puddle and it rained all the time. Till now I can not understand how could the judge differentiate between one black pile of clinker mudd from the second and again price a title. They did it somehow.

From our international exhibitions I have to mention an "unfortunate" Mlada Boleslav, although it is organised every year on the turn of July and September, it was raining for eight seasons and it seemed rather to be as on November. Now the exhibitors hope in eight wealthy years with nice weather. I surely wish it also because I might exhibit there too. The who knows the exhibition, he knows that there is just a little space in the hall so that is the reason why most dogs are exhibited outside on the grass. The same problems are in České Budějovice in spring April and also in autumn October just with a tiny dfference of beeing colder. In spite of that many exhibitors come here every year.
it´s raining and raining ...
From these examples of exhibitions with an international attendance form 3 to 4 thousands of dogs according to a catalogue is well visible that the bad weather even rain or snow does not mind to many people and hardly ever can man hear any critique about the place of the exhibition or any opinions that it shoul be taken place in a hall under the roof. Somewhere it is not even possible because at some places there are sometimes no halls and where they ar they are not affordable. So it would not be possible for organizers to have the entering fee just 600,- CZK but it would have to raise minimally above 1500,- CZK for a dog.
When I sum all my experience for all the years up I have to say that there are hardly ever ideal conditions for exhibiting on any international or just national exhibition, to allow dogs show all their beauty. Either there is not enough space or the floor is slippery or the grass outside is full of molehills and also it rains.
But when the exhibition turns out well, it is everytime a nice experience, even better than in an overcrowded noisy hall, but if it is raining the exhibition is worthless even if it is taken place on a beautiful golf field. There are everytime malcontents appearing, that they should have stood at home.
It seems that the Czech nation belonge to a tough fellow people and follow the rule:"Who does not play, can not win". Anyway the judge does not send any title or award through the postal service to anybody to his warm home. So we will have to still attend the exhibitions regardless they are in a hall or outside. And it could happen that the judge points at any beginner and say "CACIB" and after that it can happen the "tragedy" that the beginner is turned into an ardent exhibitor. I would wish to many such owners of the basset hound race that happens this. They really need this for their publicity to get to the sunny side that they are worthy of it.
A contention that the dog exhibition is the animal torture can not stand in case of my dogs, because when I leave with my two dogs on an exhibition, the other dogs staying at home are envious and they try to get on the car too. It seems to me that they understand when the win, because they swagger very often after that. A good example is my young dog which behaviour in Ostrava I could comment just very briefly by a slang expression from Brno "dělat machra" – "flaunting".
And now the experiences from the examinations
I am always shaking more than during my school leaving examination. After the examinations I always say to my dogs: "Now, you are not just nice, now you have a leaving examination and you are smart".
Because the examinators now it about me, thy make jokes of me.
When I made examinations with my dog called Akimm, as usual I balloted the last spoor. The judges was bringing me only "good" news and he had fun from my gray-greenish and after that purple coulour in my face. The first new was: "There was a doe flock running over your track." The colour of my face – gray... "And now there was a wild boar straying". – The colour – gray-greenish... Before the Akimm´s start the judge warned me: "Be ware, there is a marshland aproximatelly in one third of your track, you will probably have to transport the dog it is not possible for him to go" – The colour-purple..., pressure before an explosion. I just bumbled: "I can not bear the dog". The judge made a face, but afer a while it has changed, because my Akimm caught the spoor and ran. The mashland was no problem for my dog, but for the judge so. He had mudd in his face. The dog was running up the hill and I could scarcely run behing him. The judge – no marathoner – just groaned unhappily if the "stupid" dog could not slow down. No, definitely not! He was comming down as an avalanche to the end of the track. Me and the member of the judge we were totally tired while the dog surely made a time record. But at the end of the track there were spoors from a wild boar and I had not showed these spoors to my dog before the examinations. Akimm had never felt it before and that was the problem. After the judge´s motion I let Akimm go and we just stood and waited what would happen. Akimm came two meters from a wild boar and freezed. I am confident that because of horror and just stood like a stone statue. One minute passed, two..., three..., and Akimm still stood, we also were standing and the judge was squating behind a bush. The jury that judge the dog´s behaviour behind the bush did not see what had happened. Akimm was hidden from their angle parthly behind the wild boar. Suddenly, one of the judges stood sharply. Akimm probbably waited for that moment, waited for any action and started up and ran away to hide behind me. The member of the jury apologised me that he had frightened the dog but he did not suspected that were not for this Akimm would have been standing there till now.
Opposite to Akimm is my dog called Primo. Just before the examination he was smelling the wild boar, he arrested it just for himself and admitted no other dog or even a man. (he was growling as a tiger). When I demanded the judge to consider the behaviour near the boar, they ignored me. That was a pity.
Catch

When I was passing exams with my bitch Amee, I got a very strict judge. It made me panic and I behaved so during the competition. Every few steps I called on my dog: "Spoor". The dog found my panic and started straying around the spoor despite she was great during the training. And she had even problems with finishing the track. Finally she has been awarded by the 3rd prize. A half year after his competition we drove to other competition to Šenov just for looking. In the car there was also the strict judge with us. It was quite a long way to Šenov so during our talking we got to the experience from the competition before. The juror told me: Mrs. Křížová, you were a goose and I tell you why. During the time when the dog is on the track you should not say to the dog: "Spoor". If you were quiet, your dog could have been awarded by the 1st prize. You have messed the examination just by yourself. After this talk we had drinks in a pub and from that time we are good friends. I chalked it up to experience and now every time my dogs start examinations I shout up. I am just quitely feared and the dog passes exams without any problems.

And now the reasons why to have a basset

In what are bassets better than men

- the later you come home the cheerfullier he welcomes you.

- the basset does not forbid you to have several basses

- the basset loves when your friend comes to visit you

- the basset will not want to watch hockey match instead of walk.

- the basset finds you entertaining even if you are drunk

- you will not get angry your basset when you cuddle with another bassets

- the basset never criticises you and never organises your life

- the basset never retorts

What is the same between men and bassets

- the hairy breast befits them both

- they do not like to be kept in a tight rein

- they pretend perfectly that they understand you

- they both are stubborn

- you can not consign them your savings

- you never know what they really thing

- they both adjure back scratching

What are men better in

- a sexual relationship with a man is accepted by the society

- men look better in clothing than bassets

- front paws of a man are more entertaining than basset´s

In what are bassets better than women

- parrents of your basset will never visit you

- basset loves when your friends come to visit you

- basset does not expect that you call him when you are late

- the later you come home the cheerfullier he welcomes you

- basset does not go shopping

- basset is not inerested in flowers, congratulation cards and jewellery

- basset is never unsatisfied with it´s body

- basset never allows to be controlled by any magazine

- you make basset amused if you suffer from flatulence

- basset never criticizes you

- basset does not want to know about any other basset that you ever had

- you will never wait for a basset, it is prepared permanently to walk

- time what basset spends in bathroom is limited just for a quick drink

- basset never lends your shirts

- basset never switches the TV off when you watch football

- you can legally have several bassets

- basset can not speak

What is the same between women and bassets

- they both are able to eat a kilo of chocolate

- they both do not understand to football

- they both can pretend perfectly that they understand every your word

- they demand back scratching

- you can not consign them a credit card

- you never know what they really things about

In what are women better than bassets

- it is accepted by society to have a sexual relationship with a woman

- women look pretty in sweater

- woman´s breasts are more interesting although they are just two

Almanac of Basset club for year 2000 – inquiry of breeding stations

1. Does the name of your breeding station have any special meaning?

"Hermelín" (ermine) – because bassets have a special neck punctation as on the king´s coat. When I was at an international competition I called our organization Queen´s because organizers did not accepted our name "Hermelín" it had been already registered.

2. When did you firstly meet bassets?

I fistly saw basset in a film with A. Girardot, when I was 13-14 and since that time I have benn longing for basset. Unfortunatelly It was unreachable for me.


3. Did you have any other dog race before basset? What would you say as a main reason why do you have bassets.

Since I was 14 I have always had a dog: boxer, German shepherd and last time a schnauzer. In 1988 I bought my first basset with a reason that it does not entertain me to train the dogs and also I want anything smaller. The result is that I have more than a metric centner of bassets and I train them all.


4. What do you like on bassets the most?

I like bassets because of their impressive appearance and a perfect character (especially after the schnauzer because he affronted quite often and I had to apologized to him.

5. What do not you like on basset?

I can not complaint.


6. Bassets can have a soever coloration that is common in hound races. Do you have any favourite coloration? And what about bicolors?

I do not care about colour, the exterier is important, bicolors are shining they are gold.

7. Do you thing there is an ideal basset on the World, which you would like to have at home? What is his name and what do you appreciate on him?

The Ideal with a capital I is called Lide Daddy des Soto Moinhos – I have never seen any prettier.

8. How much breeding dogs do you have? Is there anything what you specially appreciate on them? And do you have the most popular dog among your breeding?

I have 2 male dogs and 3 female dogs. I do not make any differences among them.

9. When did you breed your first litter? Do you have any special breeding programm? How do you choose a partner for your female dog?

My first litter I breeded on 10 February 1995. I wish my dogs had kind owners, it is the most important for me than any other thing.


10. What would you wish to the race on the turn of a new millennium?

I wish to the race beautiful and healthy population.

Basset´s decal

1. Basset can not enter the house.

2. Ok, basset can enter the house but only to some rooms.

3. Basset can enter any room but he can not lay down on a sofa.

4. Basset can lay down just on an old sofa, but definitely not on a new couch.

5. Ok, basset can lay down on every sofas and couches in the house, but he can not lay down on the bed.

6. Basset can lay down on the bed but only if he is invited.

7. He can sleep in the bed but not under a duvet.

8. Basset can sleep under the duvet only if the owner permits it.

9. Basset can sleep under the duvet whenever he wants.

10. Owner has to ask basset for a permition if he can sleep under the duvet.
And then the age comes and illnesses arm in arm with it. When Champ was 7 years old, small lumps appeared on various parts of his body. A vet found out that these were wens and said it was not necessary to do anything with them unless they did not change their size. About a year later the lumps started to grow and namely quite fast. So I made an appointment with the vet and arranged a surgery. Before the surgery the vet asked me if I have had a cancer analysis done. I had no, I did not know I should have arranged it in advance. So he treated the lumps as they were cancerous. Fortunately, because as the vet said after the surgery, it was carcinoma sebaceon and this is said to be malignant about in 20% of all cases. Afterward the lumps were sent to an analysis which proved malignancy. Since the vet cut everything out, it has seemed to come right to this day. After the surgery, when I brought Champ home, my husband and my son were shocked and claimed Champ could not survey this. He had 96 stitches on his body. After my friend looked at photos of Champ she called him 'Slávista' (as a member of the football team Slavia Prague which has sewn dresses) since he was so sewn. And we still use this nickname.
As you can see, he was really sewn. But the prediction of my guys was not proved true. The second day after the surgery Champ started to roar – because he was hungry. And he vehemently demanded supplementation of feeding amounts that I did him out of as a part of a pre-operative diet. He also had to wear a plastic collar in order to prevent him from pulling out the stitches. As soon as I set him the collar he took offence, stopped communicating and even refused to walk. He put his head into a corner like an ostrich and gaped. Finally I had to put him on an old T-shirt and he was satisfied. It is interesting that the shaven spots grew over with a different structure of fur, slightly shorter and more callow. Therefore you can recognize where he was shaven to this day and he deserves the nickname 'Slávista'.
| | |
| --- | --- |
| | |
Last year before Christmas Champ had another surgery. He started to feel sick and it looked like mongrel twist. He was flatulent but not too much, he had pains but not too big and he could neither eat nor drink. Even the vet said it was strange. He took him into his surgery, put a hose into his stomach and let the air blow out. Then the vet let me have Champ back and said that it had probably been an inclination to twist but the stomach did not move round. And I was said to keep a watch of him. So I took leave, the very next day it was quite O.K. but then in the early morning it began. Chump started to moan and he had obviously a pain. And he was a little bit flatulent again. So I called the vet again, he came, palpated his abdomen and submitted he had no idea about what the problem could be. I did not want Champ to stay at home because I did not know what to do with him. I was pretty nervous. So the vet brought Champ with him and in the morning he operated him with his colleague. Champ`s stomach was burst and all the contents spilled into the abdominal cavity. The assistant said it was worthless to operate Champ and he wanted only to narcotize him. They called me up so I said them to try to rescue him. The surgery was successful, Champ is a great champion. He was shortened about a third of his stomach but he won.
Then the vet said that if a human stomach burst the doctor cannot even touch it because the patient would climb up to the sailing with pain. If a stomach of a dog burst the dog is trying to bite the hand of the vet while he is checking-up him. Champ was calm and bore the palpation, he only slightly turned aside and it was obvious that it was painful for him. Champ had troubles with kidneys after the surgery, however, these were cured thanks to homeopathy and drops.
Champ has to get veal granule with rice. About half a year later he started to break up and to ebb. Despite of this he ate with a great appetite. So I sadly said to myself that the cancer appeared again and that it was victimizing him. One day I had a look on values on a bag with special granules for Champ and I found out that it contained almost no fats and proteins. I mixed half-and-half these granules with other granules for very active canine and one month later Champ looked decent already. He had suffered from hunger, not from any disease.
Well, to go through a surgery every single year and in order to not get out of practise, a protuberance appeared on Kassina`s teat. It was not too big but I went to the vet to let him have a look at it. On that occasion the vet listened to her pulsation and said she had a bad cardiac murmur and she would not survive the surgery. I was surprised because she had absolutely no symptoms. The vet forbade move, only in a garden, no long walks. And he gave Kassina medicaments against cardiac problems. But the prohibition of move could not be respected. When I left Kassina at home she was roaring so loudly that my neighbours would soon pelt me to death. So she further went on going with us without having any problem. In spring when Kassina was in heat the cyst started to grow form day to day so enormously that a week later she was pulling the protuberance on a ground. So we landed at the vet again, he listened to her heard again and said that the surgery would be a problem because the heard would not be able to go on. But Kassina could not walk with such a cyst. If the cyst had burst she would bleed to death on the spot. So we decided to pack it in despite of the result of the surgery. Well, Kassina sneezed at heart murmurs and she came through it at ease. The vet even relished that the surgery went so right. Today she is a half-beauty, she was got rid of one of her teats so she still has the other one, but she sneezes at trappings. And she runs in the whole garden even after walks as a juvenile dog. Unfortunately the cyst was malignant, too. According to a prognosis there is only 40% chance of survival. Although it is a short time, though, Kassina really sneezes both at problems with her heart and at cancer. I hope she will be able to go on with this resolution.